INSTANT SAVING AMOUNT WILL BE DEDUCTED AT CHECKOUT
The "Bokeh Master"
Optical system delivering unsurpassed F1.4 performance
Exceptional peripheral brightness
Dust and splash-proof structure
Compatible with full-frame Sony E-mount cameras
Compatible with Canon Lens Aberration Correction

In Stock
Outstanding wide-aperture, mid-telephoto performance with F1.4 brightness at maximum aperture, this lens incorporates 17 optical elements in 12 groups, an uncommonly large number of elements for a prime lens. By including three FLD glass elements, two SLD glass elements, and one aspherical lens element, the optical system minimizes axial chromatic aberration to deliver extremely high resolution along with ample peripheral light volume.
Like SIGMA's Sports line lenses, the 105mm F1.4 DG HSM | Art features a highly effective dust- and splash-proof structure with special sealing at the mount connection (with exeption of the Sigma mount), manual focus ring, cover connection, and other areas, allowing photographers to work in alltypes of weather. In addition, the front of the lens is protected by a water- and oil-repellent coating that makes cleaning easy.
Instead of conventional ABS plastic, the exclusive lens hood features CFRP (carbon fiber reinforced plastic), a light but strong material used in the interior and exterior fittings of aircraft, among many other applications. The removable Arca-Swiss tripod socket is compatible with Arca-Swiss platform and clamps, and its exclusive protective cover makes the lens easier to carry and use when shooting hand-held.
Specifications
More Information
Product Lines
Art
Construction
17 Elements in 12 Groups
Lens Type
Telephoto
Sensor Size
Full Frame
Angle of view
23.3°
Number of diaphragm blades
9 (Rounded diaphragm)
Minimum aperture
F16
Minimum focusing distance
100 cm / 39.4 inches
Maximum magnification ratio
1:8.3
Dimensions (diameter x length)

Canon EF
Nikon F
Sigma SA-mount
Sony E-mount
L-mount

⌀ 115.9 mm x 131.5 mm
⌀ 115.9 mm x 131.5 mm
⌀ 115.9 mm x 131.5 mm
⌀ 115.9 mm × 157.5 mm
⌀ 115.9 mm × 155.5 mm

Vekt

Canon EF
Nikon F
Sigma SA-mount
Sony E-mount
L-mount

1645 g
1645 g
1645 g
1720 g
1625 g

Filter diameter
105mm
Edition number
A018
Supplied Accessories
Lens Hood LH1113-01, Front Cap LCF-105mm IIIm Rear Cap LCR II, Tripod Socket TS-111 kit, Protective Cover PT-21, Case LS-259EOL (EO, NA, SA), Case LS-259SEL
Accessories
WR Ceramic Protector Filter 105mm, WR Protector Filter 105mm, WR C-PL FIlter 105mm, USB-dock UD-01, USB-dock UD-11 (L-mount only), Mount Converter MC-11, Mount Converter MC-21
EAN

Canon EF
L-mount
Nikon F
Sigma SA
Sony E/FE

085126259549
085126259693
085126259556
085126259563
085126259655
HSM - Hyper-Sonic Motor
DG - DG for Digital Full Frame and APS-C
* The appearance, specifications, and the like of the product are subject to change for improvement without notice.
** This product is developed, manufactured and sold based on the specifications of E-mount which was disclosed by Sony Corporation under the license agreement with Sony Corporation.
Lens Construction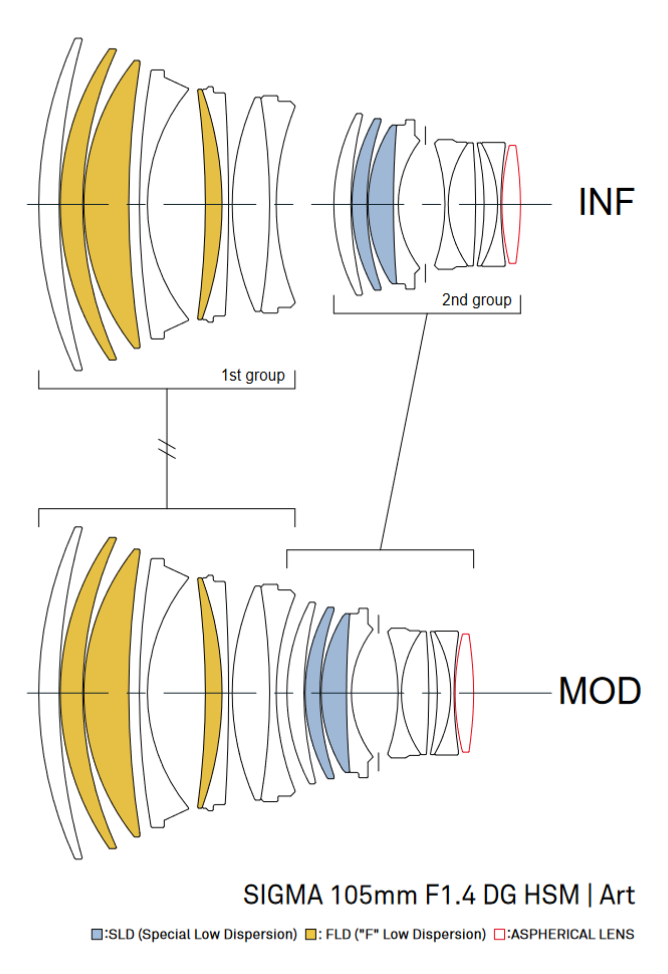 Geometrical MTF Chart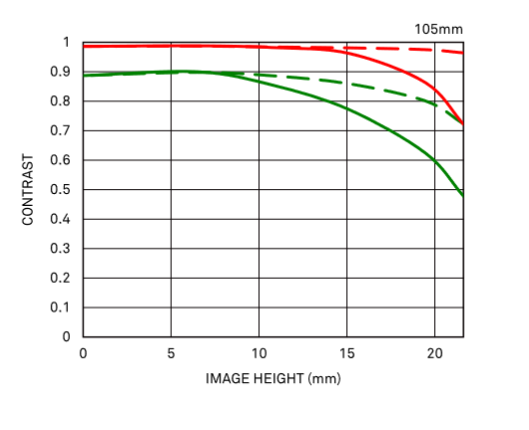 Diffraction MTF Chart